07 Sep 2014
Bati Recipe in Hindi and English (बाटी)
इस बार हम आपके लिए लेकर आये है राजस्थानी थाली की एक और रेसिपी , जिसका नाम है बाटी
Bati Recipe in Hindi and English( बाटी)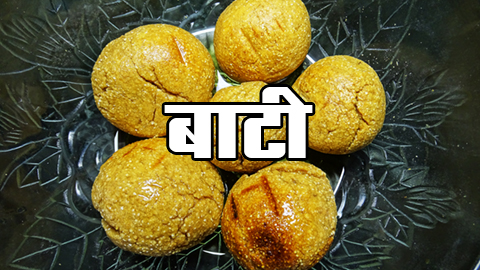 सामग्री – बाटी बनाने  के लिए हमें निम्न सामग्री की आवश्यकता होगी-
रवा आटा या मोटा आटा (अगर आपके पास रवा आटा नहीं है तो आप बारीक़ आटे का भी इस्तेमाल कर सकते है ।)
नमक
अजवाइन
घी
Bati Recipe in Hindi (बाटी)
बाटी बनाने के लिये एक बड़े बाउल में आटा लेंगे उसमें नमक, अजवाइन और बड़ा चम्मच घी का डालकर उसे मिलायेंगे ।
इसके बाद थोड़ा थोड़ा पानी डालकर थोड़ा सा टाइट आटा गूथ लेंगे ।
इसके बाद इस आटे की छोटी छोटी बाटियाँ बना लेंगे । अब इन्हे बाटी ओवन में डाल देंगे ।
15-20 मिनट तक धीमी आंच पर पकाएंगे । बीच बीच में बाटियों को पलटते रहे ताकि बाटी दोनों तरफ से सिक जाये ।
जब हमारी बाटियाँ सिक जाये तो हम उन्हें निकाल लेंगे । बाटियों को घी के बाउल में डाल देंगे ।
इस तरह हमारी बाटी तैयार है ।
Bati Recipe in Hindi Video (बाटी)
Bati Recipe in  English
Ingredients
Grain flour or coarse flour ( If coarse flour is not available, then you can use normal flour)
Salt,
Celery
Melted Butter or Ghee.
Bati Recipe in English
To make the bati, first take coarse flour in a bowl. Then add salt, celery and one big spoon of ghee, and mix it. and then pour the water in the bowl, and make tight dough. Then make rounded balls or bati.
Then put these balls in the bati oven. And roast for 15-20 minutes on low flame. Also keep checking balls, so that they will roast from all sides.When baties are well cooked, then we will put these balls out of bati oven.
And put these baties in a bowl with melted butter or ghee. And try to insert as much as ghee inside, the bati shell, so that it will be more tasty. So friends our baties are ready to eat with choorma and daal.
Bati Recipe in English Video