13 Sep 2014
Pyaj Ka Paratha Recipe in Hindi and English (प्याज़ का परांठा)
इस बार हम आपके लिए लेकर आये है प्याज़ का परांठा |
Pyaj Ka Paratha Recipe in Hindi and English (प्याज़ का परांठा)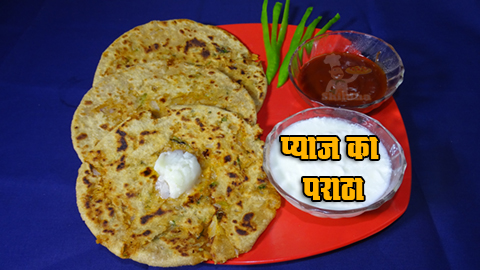 सामग्री – प्याज़ का परांठा  बनाने  के लिए हमें निम्न सामग्री की आवश्यकता होगी
गुथा हुआ आटा
बारीक कटे हुए प्याज़
नमकीन
हरा  धनिया
नमक
लाल मिर्च
गरम मसाला
बारीक़ कटी हुई हरी मिर्च
सौफ
Pyaj Ka Paratha Recipe in Hindi (प्याज़ का परांठा)
पराठे  बनाने के लिए हम गूथा हुआ आटा लेंगे|
इसके साथ एक बाउल मैं  कटे हुए प्याज़ लेंगे उसमें बारीक़ कटी हुई हरी मिर्च  , हरा धनिया ,  नमकीन , नमक,लाल मिर्च ,गरम मसाला और सौफ डाल कर मिलाएंगे।
गुथे हुए आटे की  लोइया बना कर उसे थोड़ा  बेल लेंगे उसके बाद उसमें पराठे की तैयार फिलिंग को  भर देंगे । अब हम उसे हलके हाथ से बेल लेंगे ।
इसके बाद इसे गरम तवे पर डालकर घी या तेल से  दोनों तरफ  से सेक लेंगे ।
इस तरह  हमारा प्याज़ का पराठा तैयार  है ।
आप इसे दही ,सॉस और धनिया चटनी के साथ सर्व कर सकते है |
Pyaj Ka Paratha Recipe in Hindi Video (प्याज़ का परांठा)
Onion Paratha Recipe in English
Ingredients
Flour Dough
Chopped Onions
Namkeen or Snacks
Fresh Coriander
Salt
Red Chilli Powder
Garam Masala or Mixture of Indian Spices
Chopped Green Chillies and
Fennel.
Onion Paratha Recipe in English
To make Onion Paratha, first we have to prepare flour dough in a bowl. Then take Chopped Onions, and add Chopped Green Chillies, Fresh Coriander, Namkeen or Snacks, Salt, Red Chilli Powder , Garam Masala or Mixture of Indian Spices , Fennel and Mix it.
Now make round balls from dough, then fill paratha filling in. Now put it on slightly hot griddle, and spread ghee or oil on it to cook it from both side. Now our Onion Paratha is ready. You can serve it with curd, sauce, coriander chutney.
Onion Paratha Recipe in English Video