07 Sep 2014
Mirchi Ke Gatte Recipe in Hindi and English (मिर्ची के गट्टे)
इस बार हम आपके लिए लेकर आये है मिर्ची के गट्टे |
Mirchi Ke Gatte Recipe in Hindi and English (मिर्ची के गट्टे)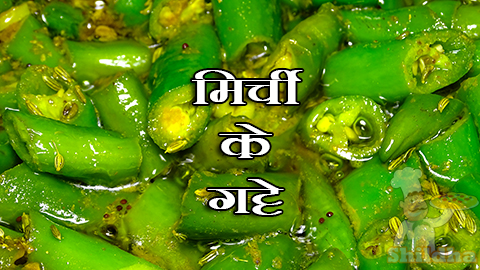 सामग्री – मिर्ची बनाने  के लिए हमें निम्न सामग्री की आवश्यकता होगी
मिर्ची
जीरा
हींग
दाना मेथी
सौफ
हल्दी
धनिया  पॉउडर
नमक
लहसुन
नींबू
Mirchi Ke Gatte Recipe in Hindi (मिर्ची के गट्टे)
मिर्ची को सबसे पहले गोल लम्बी आकार में काट लेंगे । इसके बाद मिर्ची को ३-४ बार पानी से वॉश कर लेंगे ।
अब एक पेन में २ टेबल स्पून आयल लेंगे ।  इसमें १/२ टीस्पून राई,१/४ टीस्पून हींग डालेंगे ।
इसके बाद हम कटी हुई मिर्ची डाल कर मिलाएंगे ।
अब इसमे कटी हुई लहसुन की कली, १/२ टीस्पून दाना मेथी,१/२ टीस्पून हल्दी, 1 टीस्पून सुखा धनिया, १/२ टीस्पून नमक डालकर मिलाएंगे, इसके बाद १/२ टीस्पून सौफ डालकर २-३ मिनट पकाएंगे, अब इसमें नीबू मिलाएंगे, आप चाहे तो अमचूर भी मिला सकते है|
इस तरह से मिर्ची के गट्टे सर्व करने के लिए तैयार है आप चाहे तो इन्हे चपाती ,पूड़ी ,पराठा और बाटी के साथ सर्व कर सकते है |
Mirchi Ke Gatte Recipe in Hindi Video (मिर्ची के गट्टे)
 Chopped Green Chillies Recipe in English (Mirchi ke Gatte)
Ingredients
Green chilies
cumin seeds
asafoetida
fenugreek seeds
fennel
turmeric
coriander Powder
salt
garlic
lemon.
Chopped Green Chillies Recipe in English (Mirchi ke gatte)
Now chop green chillies in round shape. Then 3-4 times wash it with water.
Now take 2 table spoon oil in a pan. Then add 1/2 teaspoons mustard seeds, 1/4 teaspoon asafoetida, now add chopped green chilies and mix it.
Now add chopped garlic, 1/2 teaspoon fenugreek seeds, 1/2 teaspoon turmeric, 1 teaspoon dried coriander, 1/2 teaspoon salt and mix them, now mix again after adding 1/2 teaspoon fennel for 2-3 minutes. now mix lemon juice and it is ready to serve.
Chopped Green Chillies Recipe in English Video (Mirchi ke Gatte)