13 Nov 2014
Bharwa Besan Mirchi Recipe in Hindi and English (भरवा बेसन की मिर्ची)
आज हम आपको एक मसालेदार रेसिपी बताने वाले है, जिसका नाम है बेसन की मिर्ची |
Bharwa Besan Mirchi Recipe in Hindi and English (बेसन की मिर्ची)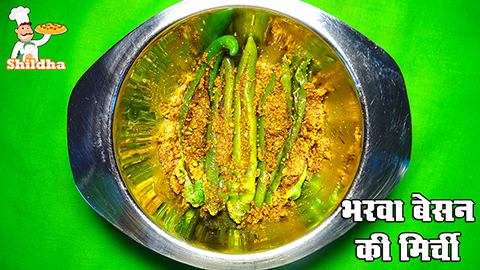 सामग्री – बेसन की मिर्ची  बनाने  के लिए हमें निम्न सामग्री की आवश्यकता होगी |
हरी मिर्च
बेसन
हल्दी
सौंफ
अमचूर
नमक और
लाल मिर्च ।
Bharwa Besan Mirchi Recipe in Hindi (बेसन की मिर्ची)
पैन में १ टीस्पून में तेल डालकर उसमें बेसन डालकर सेक लेंगे । सेकने के बाद बाउल में डालकर ठंडा कर लेंगे । ठंडा होने के बाद १/२ टीस्पून लाल मिर्च, १/४ टीस्पून हल्दी, १/२ टीस्पून नमक, १/२ टीस्पून सौफ और १/२ टीस्पून अमचूर डालकर मिलाएंगे ।
मिर्ची को बीच में से  लम्बा काटकर उसमें से बीज निकाल कर बेसन का मिश्रण डालकर भर देंगे । इसी तरह से सभी हरी मिर्च को भर देंगे ।
अब इन भरी हुई हरी मिर्च पर पानी डालकर गीला कर देंगे ।
पैन में एक बड़ा चम्मच तेल डालकर गरम करेंगे । गरम होने के बाद इसमें  हरी मिर्च डाल देंगे ।
जब एक तरफ से पक जाये, तो स्पून की सहायता से दूसरी तरफ पलट देंगे ।  २-३ मिनट तक पकने के बाद गैस बंद कर देंगे ।
इस तरह से बेसन की मिर्ची तैयार है |
Bharwa Besan Mirchi Recipe in Hindi Video (बेसन की मिर्ची)
Stuffed Besan Chillies Recipe in English
Ingredients
Green Chillies
Gram Flour (Besan)
Turmeric
Fennel
Dried Mango Powder
Salt, And
Red Pepper.
Stuffed Besan Chillies Recipe in English
Add 1 teaspoon oil in pan, and roast gram flour in the pan. Then cool it in a bowl. Then mix 1/2 teaspoon Red pepper, 1/4 teaspoon turmeric, 1/2 teaspoon salt, 1/2 teaspoon fennel and 1/2 teaspoon dried mango powder.
Cut green chillies in the middle, and remove the seeds, now fill roasted gram flour stuffing. Similarly, fill stuffing in all green chillies. Now pour little water on green chillies.
Now pour 1 big spoon oil in the Pan and Heat it. Then fry stuffed Green Chillies in oil. Now flip to other side, so it will cook both sides.
Now turn off the Gas after cooking for 2-3 minutes. Our Stuffed Besan Chillies is ready to serve.
Stuffed Besan Chillies Recipe in English Video